Women Speaking Out
Over the past few days, I have either watched or read about some women who are speaking out against the continued sexism and misogyny that continues to permeate our culture.
While I don't follow Australian politics and have read some not so good things about Gillard's government's policies, I LOVE this video. Good on her for calling out the Leader of the Opposition. This was a well-put together speech and given eloquently. I hope Gillard knows that she not only speaks on behalf of Australian woman, but women all over the world who live under governments who have members who still believe that women are not equal to men.
I recently read a blog post titled "The Kissing Sailor, or "The Selective Blindness of Rape Culture" about that iconic photo of an American sailor kissing a nurse in Times Square on V-J Day.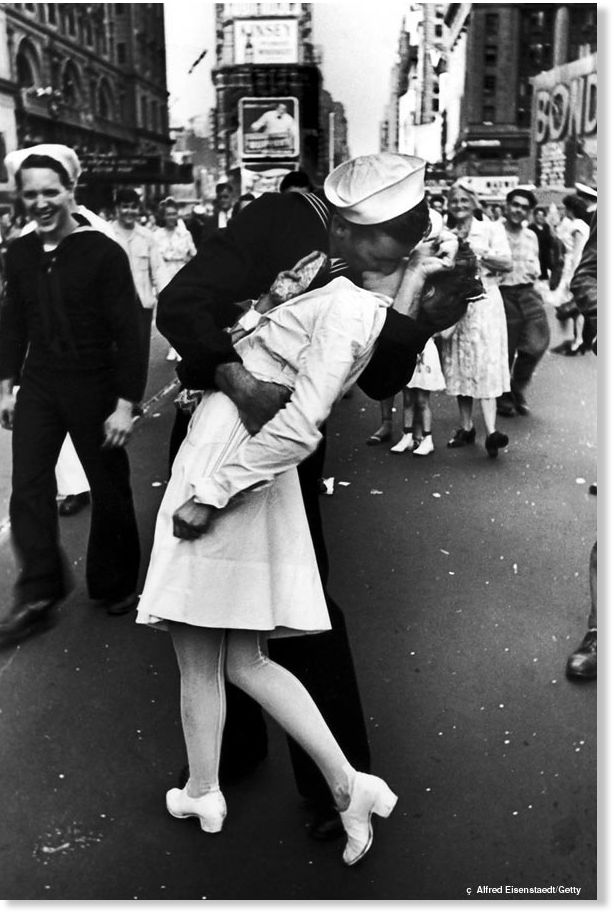 This photo has been replicated time and time again and for decades no one knew for sure who the individuals were. They are Greta Zimmer Friedman, a dental assistant at the time, and George Mendonsa, a sailor. Turns out, they didn't know each other. Also turns out that the kiss was not consensual. George was drunk and Greta has shared that it wasn't her choice to be kissed, that she was held in a vice grip, and that this man grabbed her. (note: in an interview, Greta also talks about how it was a celebratory moment.)

To me, that screams assault. But when this blogger pointed this out, many people thought she was blowing the situation out of proportion, including some who said  "it's just a kiss," implying it was no big deal. I would love to ask those commenters how they would feel if their daughter came home from school/work/wherever and said "Mom/Dad, some stranger walked up to me today, grabbed me, and kissed me. He was so strong, I couldn't get away." Yeah, now tell me that it's "No big deal."
But the point of that post (and the follow-up)was not solely about the picture. In the author's words, in response to a question:
Misconception #4: People celebrated this photo as an icon; for a long time no one knew the story behind it. So how can you say that our celebrating it was a result of rape culture?
I'm not saying that at all. Most people believed that it was a picture of a couple, expressing their joy after the war. I don't blame them. What I was referring to when I spoke of rape culture was the silence on the part of the news articles on the subject of Greta's non-consent, even while publishing quotes from her which make it clear that George had simply grabbed her. This ignoring of inconvenient truths in favour of maintaining the illusion of romance is symptomatic of rape culture.
We live in a society that continues to try to sweep verbal/physical/sexual assaults against women under the rug in order to uphold an ideal that things like that do no exist. Society tends to minimize the impact that these assaults have on women, the long-lasting damager it can do. I speak as someone who has been a victim of physical assault and to this day, I can remember what happened with vivid detail and it makes me feel sick. What made the assault even worse is that I was made to feel that I had blown it out of proportion, that the school did not take it seriously, when my assaulter was given a two-day in-school suspension. IN MY CLASSROOM. For two days, he sat there, about 20 feet away from me. My teacher and the administration did not think this was a big deal. I found out years later that he could have been charged with assault. I was not informed of this option at the time I reported it. This took place more than 15 years ago and, yes, it still bothers me. I know of girls who have been sexually assaulted but refused to report the crime out of fear they would be called a liar and not taken seriously. Heck, we live in a society where women are raving about books like "50 Shades of Grey" (and sequels) when what it fundamentally depicts is an abusive relationship where the female believes that if she tries hard enough, she can fix the guy. Oh, and she apologizes for doing things like having drinks with a friend without his permission. (My hate for 50 Shades is a whole other story. I'll never get the hours I spent reading those books back, quite unfortunately).
Then there are girls like 14-year-old Malala Yousafzai, a Pakistani who believes that girls have the right to education and, when she attended school, was shot by a member of the Taliban in the head. She is still alive but in critical condition. She is not the first young woman to stand up against Islamic-extremists who want to continue with the oppression of women. She is not the first young woman to be targeted and included on a kill list. Unfortunately, she probably won't be the last. All around the world, girls dream of being doctors, dentists, astronauts, presidents, prime ministers, teachers, physicists, and yes, even wives and mothers. They dream of going to school, of becoming educated and having jobs to earn money. They dream of choice. Some of these girls have their lives threatened, are physically assaulted, and even killed because they have these beliefs and live in a misogynistic society.
It infuriates me to no end that women are still treated as second-class citizens, that we are deemed unequal and weak, and that when we are assertive and stand up for our rights and demonstrate leadership, we are deemed "bitches" or "temperamental," that we are expected to be skinny and well-dressed. It also really bothers me that young girls are being raised in a society that bombards them with the pink and purple Disney princess ideal, and that they are still given dolls and play kitchens even if they want to play with trucks and climb trees. Oh, and if they choose the latter, they are deemed "tomboys." Oh, and if we talk about our vaginas, like Olivia Wilde recently did in a performance, the media jumps all over her for TMI. Even if the comments were taken out of context, as she has since claimed, why shouldn't women be able to talk about their vaginas in public? Guaranteed that if a guy had given the same monologue but switched out "vagina" for "penis," the media would not have jumped all over him. I mean, you have someone like Gene Simmons who claims to have slept with 4800 women and that is celebrated. He isn't accused of sharing too much information, or perhaps rebuked for being such a womanizer. If a woman made the same claim, that she slept with 4800 people (men or woman – who cares?), she would probably be called a slut. Simmons probably gets high fives.
It saddens me that so often women just accept this treatment, sometimes when it is delivered directly to us or indirectly through the media and other sources. For those who do stand up against the seemingly continuous bombardment of sexism, thank you. I know I can do a lot more to create change in our society and I hope to start doing more. We need more women who will fight to not only protect our rights, but to expand them. We also need men who are willing to stand alongside us, knowing that our world is a better place when women and men are truly seen as equals.
Finally, I leave you with this video of Nicki Minaj who talks about the double standard of men and women in the music industry. The only part I don't like about this video is when she says at the end: "don't use this video, it's just gonna make me look stupid." On the contrary Nicki: it shows you off as the intelligent, insightful woman that you are.
So there ya go. End of rant. But perhaps a start of a new commitment from me to learn more about my rights as a woman and the responsibilities that go along with that to ensure that other women have the same opportunities that I have.